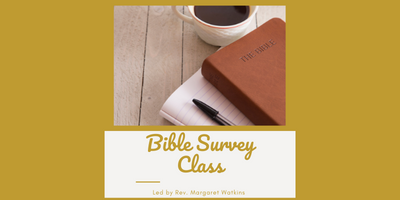 Every Thursday, from 01/13/2022 to 05/19/2022
,
7:00 PM - 8:00 PM
For those who have always wanted to look at the whole Bible but who have not yet had the chance, join Margaret Watkins for a Bible Survey course beginning Thursday, January 13, 7:00 - 8:00 pm via Zoom. No baby sitters or transportation are needed. Class readings are optional, but offered.
January 13 The Historical and Political Setting of the NT
January 20 Mark
January 27 Mark
February 3 Matthew
February 10 Matthew
February 17 Luke
February 24 Luke
March 3 John
March 10 John
March 17 Acts
March 24 Background on Paul
March 31 Paul's earliest letters
April 7 1 and 2 Corinthians
April 14 No class: Maundy Thursday
April 21 Romans
April 28 Hebrews
May 5 The Pastoral Epistles, 1 and 2 Peter
May 12 Revelation
May 19 Conclusion
"For Presbyterians and others of the Reformed tradition the Bible is the means by which Christian believers come to understand how God has been present with humanity since the beginning of time and is present in our world today." (from the PCUSA website) Contact: Katie Dollar ( ) to register and receive the Zoom link.