Let us love, not in word or speech, but in truth and action. - 1 John 3:18
At Preston Hollow Presbyterian Church, we believe God invites us to embody our faith. As Christians, we are called to live as Jesus lived – loving our neighbors, standing with the oppressed, enacting mercy, working for justice, caring for Creation, and sowing seeds of compassion.
Putting our faith into action as a congregation has sparked the creation of organizations, ministries, programs, and partnerships intended to reflect God's love and desire for each person to "have life, and have it abundantly" (John 10:10)
CONGREGATIONAL GOALS FOR MISSION
In 2019, at the recommendation of the session and the approval of the congregation, together we affirmed our commitment to ensuring that "PHPC reflects the love of Jesus Christ in Dallas and beyond." This goal was created through a process of congregational discernment where the work of alleviating and eliminating poverty was overwhelmingly identified as a priority.
We aim to reach this goal by:
• Being a catalyst for change for families living on the margins,
• Leading efforts in breaking the cycle of poverty in Dallas, and
• Ensuring the voices of those long silenced are named, heard, and valued.
MISSION AND OUTREACH IMPACT AREAS
As we strive to not only alleviate but also eliminate poverty in Dallas and beyond, we recognize how poverty is complex and multi-dimensional. Each of our mission teams, mission partners, and mission initiatives allow PHPC to love our neighbors through ensuring individual basic needs are met, children are nurtured, families are supported, and whole communities are strengthened.
PHPC's Mission & Outreach ministry involves 5 impact areas:
Each Impact Area is comprised of external outreach partners and projects developed within the PHPC community.
MISSION, POVERTY, AND THE MARGINS
Whether it was to touch the wounds of the lepers or offer living water to the Samaritan woman at the well, Jesus frequently traveled to places and people outside of the centers of economic, political, social, and even religious power.
At the beginning of his ministry, Jesus announces:
"The Spirit of the Lord is upon me, because he has anointed me to bring good news to the poor. He has sent me to proclaim release to the captives and recovery of sight to the blind,
to let the oppressed go free, to proclaim the year of the Lord's favor." (Luke 4:18-19).
As people called and sent by God, empowered by the Spirit, we seek to continue Jesus' ministry with and for individuals and communities whose fullness of life and inclusion has yet to be realized. We often use terms like "the margins," "the oppressed," and "the poor" to name the reality of inequality and inequities in our world.
Our mission is to join God and these communities in proclaiming and upholding the dignity and humanity of all God's people through the transformation of our own lives and communities to be more reflective of God's shalom.
HISTORY OF MISSION AT PHPC
1962: The Preston Hollow Presbyterian School was founded in response to the needs of the Dallas community as the first outreach mission of the Preston Hollow Presbyterian Church. PHPS is a nonprofit school dedicated to educating children with mild to moderate learning differences, including reading disorders (dyslexia), auditory processing disorders, oral language disorders, written language disorders, or mathematical disabilities.
1983: PHPC joins a consortium of congregations establishing North Dallas Shared Ministries to collectively provide short-term, tangible emergency assistance for food, rent, and utilities. Over time, NDSM's assistance was enhanced with a menu of additional services, including job counseling, English-as-a-second-language day and evening classes, school supplies, and medical, dental, and vision care.
1997: Literacy Achieves was founded by PHPC initially as Vickery Meadow Learning Center (VMLC) to address the critical need for English as a Second Language (ESL) instruction for non-English speaking adults in the Vickery Meadow area of Dallas, an ethnically diverse, low-income neighborhood. Literacy Achieves is now an award-winning nonprofit serving children and adults through three campuses across Dallas.
2000: At the invitation of mission co-workers Frank and Nancy Dimmock, PHPC began establishing mission partnerships in Malawi with the support of the Church of Central Africa Presbyterian (CCAP), the sister denomination of the Presbyterian Church (USA). The PHPC Malawi Mission Team continues to foster the ongoing partnership with the CCAP and empower local leaders and organizations committed to improving education, infrastructure, medical care, and Malawians' communal wellbeing of Malawians for generations to come.
2007: PHPC agrees to join CEPAD, the Council of Protestant Churches in Nicaragua, as a long-term partner, a commitment to sending annual delegations (mission teams) to learn and serve through CEPAD's programs with rural communities across Nicaragua. For nearly 50 years, CEPAD has walked alongside more than 4,000 communities by providing faith-based training through programs in leadership, sustainable agricultural practices, economic development, and women's empowerment.
2010: PHPC's Epiphany Ministry began as a one-hour Sunday School for adults living with intellectual and developmental disabilities. Epiphany has grown to encompass diverse opportunities for participants to deepen their faith, serve at the church and in the community, and expand their social skills through many different activities and events, all of which seek to offer Christ-centered respite care for families and caregivers.
2010: PHPC adopted McShan Elementary School in Vickery Meadow. McShan is a unique elementary school of Dallas ISD because of its large number of refugee and immigrant students speaking over 30 languages. Programs include the Reading Homeroom, 5th Grade Mentoring (Girls in Pearls, Guys in Ties), Vickery Meadow Summer Reading Academy, and support for the McShan staff and administration. PHPC received the Outstanding Faith-Based Partnership award from Dallas ISD for 2019-2020.
2017: PHPC's Mission and Outreach Council was formed. Members of PHPC provide leadership across all areas of Mission & Outreach with the support and collaboration of our staff. Their role includes aligning Mission & Outreach ministries with the overall vision of the PHPC and important tasks such as overseeing the annual budget and the breadth and depth of our mission partnerships, including our PHPC Mission Teams.
2020: PHPC adopted Martin Luther King Jr. Arts Academy in South Dallas in partnership with the newly formed Forest Forward, a Purpose Built project.
MISSION AND OUTREACH COUNCIL GRANTS
Each year the PHPC Mission Council, with the approval of the Finance Committee and the Session, allocates funds to be distributed to mission parters of the church and special projects. The committee makes funding decisions during our May Mission Council Meeting after reviewing applications and prayerful discernment.
Interested in applying for funding for your organization? Email for more information.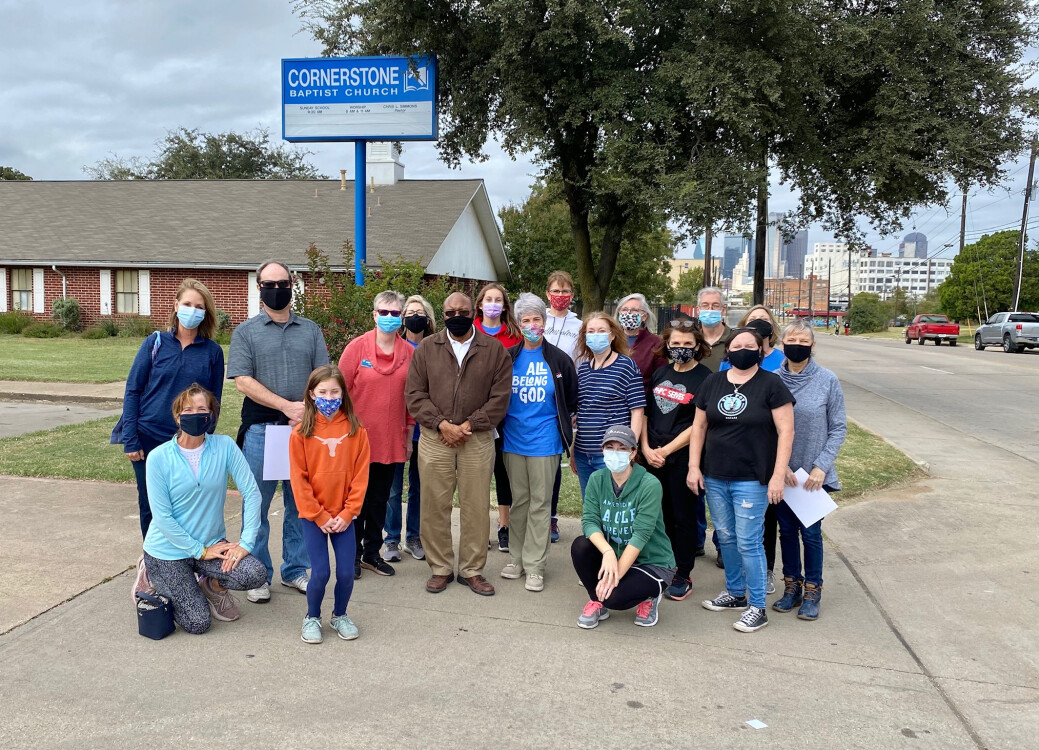 Get Involved with Mission & Outreach
Whether you are simply looking for an occasional volunteer opportunity or discerning a deeper commitment to mission, PHPC invites you to experience the joy and transformation of putting your faith into action.